Q&A with Scott Helstrom – Gamers Garage General Manager
Adding Game Rooms to Restaurants
We recently spoke to Scott Helstrom about the decision-making process of adding game rooms to restaurants and his experience of working with Betson on their latest projects.
About the Company
The Cohn Restaurant Group is a family-owned and operated company based in San Diego, California, and has been in business for over 33 years. Through that time, the company has grown and continued to open award-winning restaurants and bars. We currently have 27 restaurants in operation around San Diego, Southern California, and Hawaii, with several more in the development and construction stages.
About Scott Helstrom Gamers Garage General Manager – I am responsible for all gaming, amusements, vending, and ATM machines across our group. My role has grown with the company starting as the arcade manager for the Corvette Diner. As we have grown as a company and added games and amusements to more properties, so has my role.
About the Decision Making Process to work with Betson.
How did you hear about us?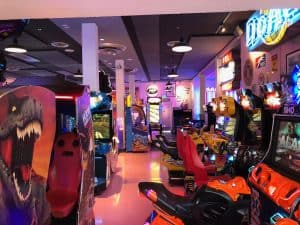 When we relocated the Corvette Diner to Liberty Station, we decided to add an arcade to the restaurant. Betson was one of the companies we contacted for an opening game list bid.
What challenges did you face to make you look for alternatives to your current business model?
When we got into gaming and amusements, it was simply a matter of having an empty space and deciding that games would be a good way to fill it. Now things have changed. As costs of products and labor continue to rise, we are looking at additional revenue streams to help offset those costs.
We love games and amusements' low overhead cost and generally a good return on investment. Because of this, we have been adding arcade games to most of our new properties as we are building them out.
Describe the top reasons you chose to work with us.
Having worked with a few other distributors over the years, I greatly appreciate the level of service we get from Betson. My sales rep is very straightforward when discussing new equipment purchases and will tell me straight whether a piece I am considering is a good earner or not. Our delivery guy is one of the best I have ever seen and goes above and beyond to help us get the equipment in place and set up. To me, that level of service is worth it.
Can you measure any increases in revenue or growth since you upgraded or installed the game room?
In our case, we typically add equipment during the build and construction phase of our projects. This makes it difficult to determine if the games have driven additional revenue to the properties. I can say that most of our installations boast solid revenues and earnings from the games, and this is all added revenue with no real additional labor costs involved.
What has Betson done in particular that has helped you to be successful?
Being quick to respond to inquiries, quick to ship parts when necessary, and just having a great sales rep that talks honestly about what is hot and what isn't.
Do you think the investment in our product was worthwhile? Why?
Absolutely. Games are great money-makers. Once the game has earned what it costs us to purchase, it's almost pure profit from then on.
Some of the equipment that we've placed in Cohn Restaurant Group properties include:
Gold Fishin
Photograph Booths and more.