The Really Big Crane Company
The Really Big Crane Company is based on the really big idea of building games designed with the street operator in mind. The company, founded four years ago, is run by a group of operators and industry pros with combined decades of experience in street operations and manufacturing.
Street operator-oriented design detail encompasses game aspects as common sense, assuring all games are small enough to fit through a standard doorway to the more sophisticated, easy-to-program software design.
We've been in your shoes. We know what it's like to run a business, and how challenging it can be to find ways to increase profits without increasing your overhead or workload.
More importantly, we understand the value of providing experiences that make customers happy – and how good it feels to see people in your establishment creating memories and having a great time.
This is why we're in business.
Our operators are in the field every day, maintaining machines – and learning what features increase gameplay. We bring all of the learnings back to our manufacturer and modify, improve and perfect our game designs.
The end result – more enjoyable, more reliable games at the lowest cost possible. We pass the quality and the savings on to you.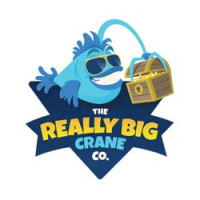 All Products by The Really Big Crane Company