Stern Pinball Machines
Stern Pinball is the oldest and largest designer and manufacturer of arcade-quality pinball games on the planet. They offer a full line of commercial pinball games, merchandise, parts, and accessories sold to pinball operators, enthusiasts, and fans around the globe. The company traces its lineage to the early 1930s and the founding of modern pinball. Sam Stern, the father of SPI's Founder, Chairman, and CEO, Gary Stern, was part-owner and President of the pinball pioneer, Williams Electronics. Williams and other innovative companies, including Bally and Gottlieb, formed the foundation on which the pinball industry was built.
The company is a global lifestyle brand based on the iconic and entertaining modern American game of pinball. Headquartered minutes from Chicago's O'Hare International Airport in the heart of North America, the company creates, designs, engineers, manufactures, markets, and distributes a full line of technologically advanced terrestrial and digital pinball games, parts, accessories, and merchandise. They serve digital, consumer, commercial, and corporate markets around the globe.
Pinball machines continue to be a customer favorite at locations, and recent machines include Star Wars, Iron Maiden, Star Trek, Deadpool, The Munsters, and more.
The Stern Army is the official street team and brand ambassadors working in partnership with the International Flipper Pinball Association (IFPA) to help create more tournaments and leagues at public locations.
The Stern Pro Circuit (SPC), presented by the Replay Foundation and International Flipper Pinball Association (IFPA), is a series of 20 high-level pinball tournaments held each season. Stern tracks players' World Pinball Player Rankings (WPPR) performance in these events, with the top 20* qualifiers being invited to the Stern Pro Circuit Championship held in Chicago, IL*.
*subject to change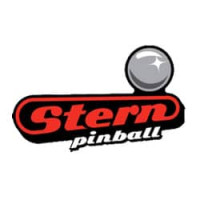 All Products by Stern Pinball Machines