Increase Revenue with Free Injustice Stand Up Banner
Raw Thrills is excited to announce that all customers who purchased an Injustice Arcade 43" & 55" cabinet will receive a free stand-up banner featuring the images of the entire 200-card Series 1 set.
The Injustice Arcade stand-up banner has increased revenue when displayed beside the cabinet at locations.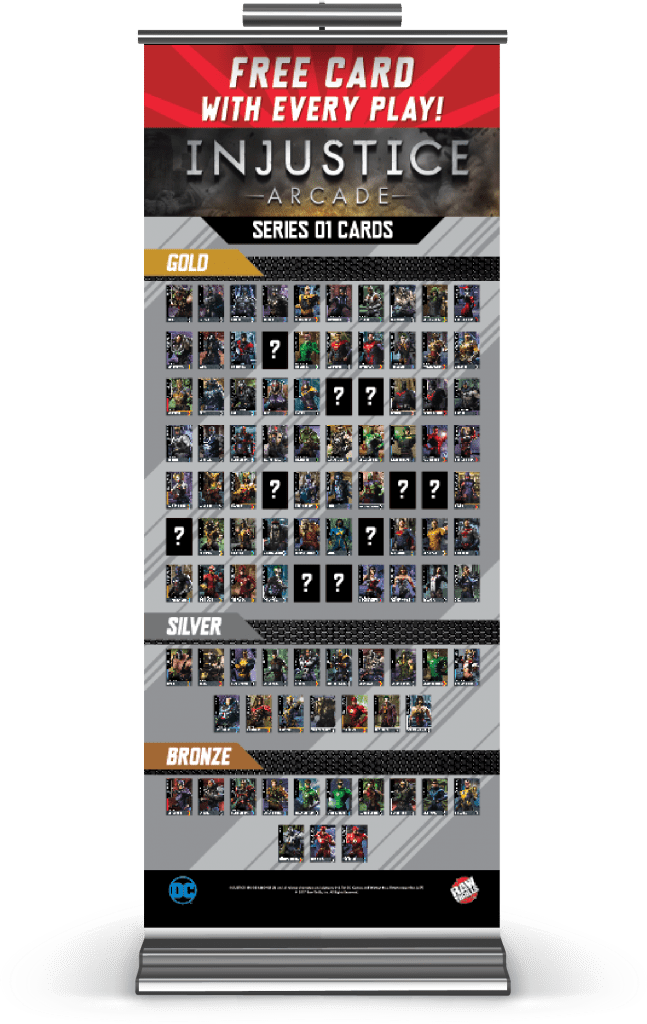 All new games ship with the banner and stand. Those who have already purchased Injustice Arcade will receive a banner from their distributor.
"Injustice Arcade has been a great success so far, but we've heard that players don't necessarily understand the novel card feature," said Andrew Eloff, VP/COO of Raw Thrills. "This banner explains the concept and shows all of the special and rare cards they can collect."
About Raw Thrills™
Raw Thrills™ was founded in 2001 to develop the finest arcade video game entertainment. The studio is led by veteran game designer Eugene Jarvis, whose credits include classic titles such as Defender™, Robotron:2084™, and the Cruis'n™ series of adventure driving games. From its debut hit The Fast and the Furious™, to the 2015 release Jurassic Park Arcade™, Raw Thrills™ strives to bring the player the ultimate arcade experience, while delivering consistent reliability and value.
In 2006, Raw Thrills ™merged with the renowned game development studio Play Mechanix™, to create a new world leader in arcade video and video redemption games. Founded in 1995 by George Petro, a former designer for Midway Games, the Play Mechanix design team are the creators of the famed Big Buck Hunter™ series, Deal or No Deal™, Wheel of Fortune™, Terminator Salvation™, Aliens Armageddon™ and many others.
The combined strength of the two studios have produced an amazing lineup of games for 2015 including Batman™, SnoCross™, Super Cars™, SuperBikes 2™, Barrel of Monkeys™, Kung Fu Panda™, Aliens Armageddon™, and the incredible new Big Buck HD Wild™ and Jurassic Park Arcade™. Raw Thrills has achieved many accolades and awards from the entertainment industry, including the Best of Show Award (BOSA) 2015 award for Jurassic Park Arcade™, and Play Meter 2015 Players Choice award for Big Buck HD™. The company exports its line of video arcade and redemption games to over 60 countries.
INJUSTICE: GODS AMONG US and all related characters and elements © & TM DC Comics and Warner Bros, Entertainment Inc., (s17) © 2017 Raw Thrills, Inc. All Rights Reserved.