Q&A with Rick A. Klinghagen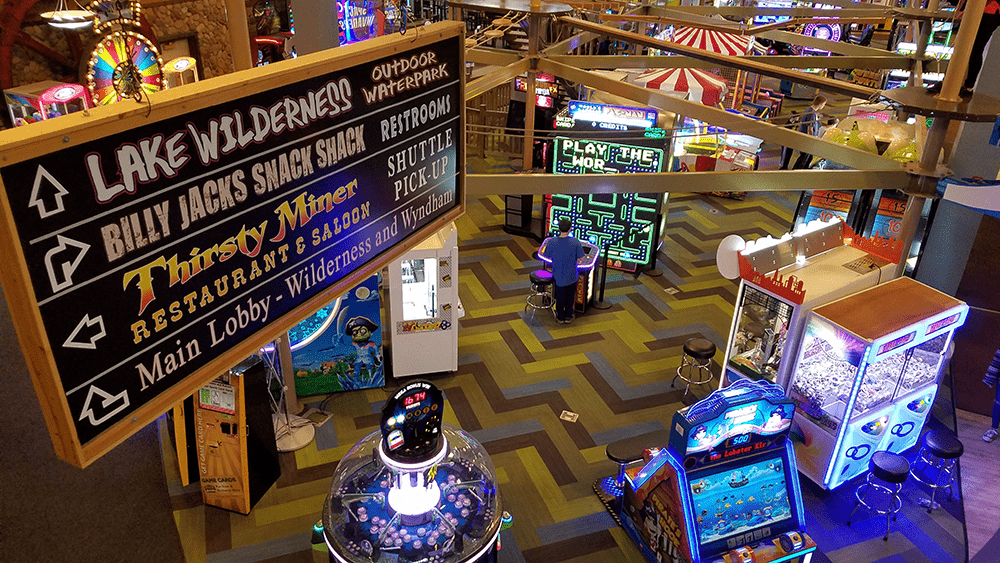 Wilderness at the Smokies
About the Company
Wilderness is predominantly in the waterpark resort business, with current locations in Wisconsin Dells, Wisconsin, and Sevierville, Tennessee, in the Smokies. The resorts range upwards from 200 to 400 acres and include hotels, lodges, villas, and cabins in an assortment of room variations. The properties also include a variety of restaurants and snack bars, and assorted shopping venues. As the business combines lodging and entertainment, there are several attractions, including; waterparks, family entertainment centers, golf courses, and convention centers.
Can you describe your role?
As Director of Adventure Forest, my main role is to direct the functions of a 30,000-square-foot family entertainment center along with ancillary paid attractions, including businesses such as jet boat rides, satellite arcades, and mini golf courses. This also includes long-term planning, new attractions development, equipment purchasing and consulting, and assisting in designing, developing, and opening new facilities.
About the Decision Process
How did you hear about us?
We became familiar with Betson in several ways. First, from past positions, I was aware of Betson being one of two major distributors in the area. We were also aware of Betson from annually attending the IAAPA show, and thirdly, we were approached by the company representative Rick Murphy who offered his assistance and requested an opportunity to bid on our purchases.
What challenges were you facing to make you look for alternatives to your current business model?
Initially, in 2014, the property was using a consultant to operate the family entertainment center. As the staffing changed that year, we came to a point where we had management on the property with experience in the operation of the arcades and attractions. This meant that there was no longer a need for consulting. We then looked for a long-term partner to select and purchasing our arcade equipment. We were looking to reduce costs and have a wider variety of products to choose from.
Describe the top reasons you chose to work with us.
Initially, when we selected the equipment we would purchase in 2014, we gave that list to a couple of companies for bid. We found out that the bids came back close to each other. So, pricing was not as much of a factor as was initially expected. However, over time we recognized that we were getting better and additional services from Betson. We also felt that we were getting excellent and honest advice from our sales rep when evaluating what purchases to make. We found the company willing to work with us on equipment trades and sales, and the consulting on arcade set-up and future design has been greatly appreciated.
About Customer Success
Can you measure any increases in revenue or growth since you upgraded or installed the game room?
We began weeding out old equipment and updating our arcade machines annually as of 2014. Betson began working with us on machine selection and equipment removal in 2015. Looking at our projected year-end arcade equipment revenue for 2018, we expect to show growth of about 34% in arcade revenues over our 2014 year-end numbers. Additionally, our overall department profit percentage has risen an additional eight percentage points during that same time. This occurred while we reduced the number of arcade machines on the floor by about 40 units.
What has Betson done that has helped you to be successful?
The advice we have received from Betson when making purchasing decisions has been extremely valuable to us and has led to some of our strongest revenue increases. Rick Murphy has also made us aware of the practices of other operators that are having good results and trends in the industry. Furthermore, he and other company staff have helped us to make contacts in the industry and have advised us when we're planning new company locations. The parts team has also been extremely helpful in working with us to get parts and repair issues resolved quickly and often under warranty. The advice and direction we have received have been honest and valuable.
Do you think the investment was worthwhile?
Definitely. You have helped us to select the right equipment for our customers and our business, and the impact of those decisions is apparent in the revenue growth we have experienced over the past four years. It has helped us to gain the trust of our company's owners and as a result has helped lead to more investment in our area of the company and in turn increasingly stronger revenues.