Pinball's Resurgence Means Business Opportunities
Why is pinball regaining popularity?
Over the past several decades, pinball and other arcade games have had to reckon with the booming popularity of computer and home video games. But now, pinball is seeing a popularity resurgence as generations both young and old fall back in love with the skill-based game. For some generations, pinball is very much about nostalgia and remembering one's childhood with countless hours spent in front of a pinball machine. Vintage pinball is a growing market fueled by pinballers hoping to reconnect with their favorite past times. Pinball museums are proliferating as old pinball fanatics look to play and admire pinball machines from their childhood.
Pinball is also bringing in a younger crowd perhaps unfamiliar with the nostalgia and history behind the pinball machine. Video games have captured the hearts of the latest generation, but as they come of age, pinball offers a unique entertainment outlet. Pinball is somewhat of a novelty to younger people, but it combines novelty with a familiar platform of gaming.
Effect on the Industry.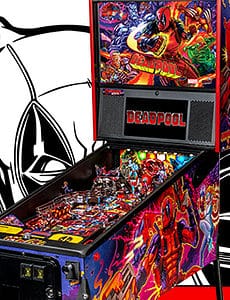 The increase of pinball play has had a knock-on effect on the industry, and now more pinball machine companies are designing and selling modern takes on the pinball machine. Increased competition has led to somewhat of a revolution in pinball design. Stern Pinball has expanded its production due to increased demand launching some great new titles including Iron Maiden Pinball and Deadpool Pinball.
A recent piece in Newsweek featured this excerpt from Stern, What draws folks to play these seemingly antiquated games, especially when free ones are just a button-push away in our pockets? Zach Sharpe, director of marketing at pinball manufacturer Stern, credits phones and video games with driving people to seek out a more tangible, mechanical pastime. "It's an entertainment device that can't be replicated," Zach tells Newsweek. "While video games are fun, you don't get that same tactile action that you experience with a pinball machine."
Where is it happening?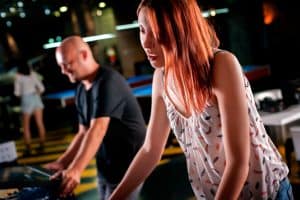 The latest pinball trend began in the Pacific Northwest with younger hipsters combining the arcade game with craft brewery, but it is beginning to catch on across the nation. A newfound fixation with vintage and retro gaming has in part spiked the comeback of pinball in the States.
One way to track the success of pinball is to look at the spread of pinball museums. Museums dedicated to pinball and its history are thriving in from Seattle, Las Vegas, New York City to Asheville, North Carolina.
And, the revitalized interest in the game has spread from pinball specific foundations to general food and entertainment establishments. Savvy business owners are realizing pinball's potential, and they are incorporating pinball into their entertainment offering.
How can restaurants, bars, and other establishments take advantage of pinball's growth?
Whether you are looking to reinvent the theme of your bar or just wanting to add some new entertainment options, pinball can connect a new audience to your business. The more active, young crowd is looking to engage their gaming prowess on a night out, and older pinballers will enjoy the nostalgia pinball machines offer.
More than just a recreational activity for some, competitive pinball and pinball tournaments are seeing a growth throughout the States. The International Flipper Pinball Association holds events in nearly every state, and their presence is growing nationally and internationally. Tournaments are held in bars, restaurants, and cafes, and they offer a unique opportunity to connect with the local community.
In a more recreational setting, arcade bars are also spreading as a way for patrons to connect their love of gaming with the outside world. Themed arcade bars attract an audience looking for more in a bar than the familiar trappings. With this said, simply having a machine offers customers a fun, engaging game to spend a couple minutes on in between buying food and drinks.
by
Bob Dipipi
Director of Sales-Betson Enterprises