How A Free Play Arcade Game Room Boosts Business
In the ever-evolving hospitality industry, hotels and resorts have long embraced offering guests complimentary amenities such as breakfast or robes. However, with the rise of competition, including the growing popularity of Airbnb accommodations, these establishments seek innovative ways to set themselves apart from the crowd. As travelers become increasingly discerning, including free amenities has become a vital strategy for lodging facilities aiming to stand out and provide an exceptional experience to their guests.
Stein Eriksen Lodge, an authentic European ski lodge in Park City, Utah, takes a unique approach to enhancing their facilities and improving the customer experience. One of their notable additions was the Champions Club, a 3,500-square-foot entertainment room featuring arcade games and a restaurant. The lodge saw this new space as an opportunity to provide guests with exciting activities and memorable experiences. They partnered with Betson to handle the installation to bring their vision to life.
The 3,500-square-foot entertainment center offers the perfect location to spend quality time with various high-tech to old-school games. However, what sets this game room apart is its innovative approach – the arcade games are offered as a complimentary hotel amenity to boost overall hotel growth.
"Offering our guests amenities like free-play arcade games has created an unmatched experience that keeps guests coming back for more," Dan Bullert, Vice President of Operations, Stein Eriksen Lodge.
Stein Eriksen Lodge understands that striking a balance between luxury and practicality and vintage and cutting-edge gaming equipment was crucial in their decision-making process. They explored various alternatives and compared different solutions and providers. Ultimately, they chose to work with Betson due to the expertise and assistance provided by Steve Lamoreaux, who helped design a plan tailored to their needs and available space. While the lodge's internal committee made the final decisions, Steve's support was instrumental in getting the project off the ground.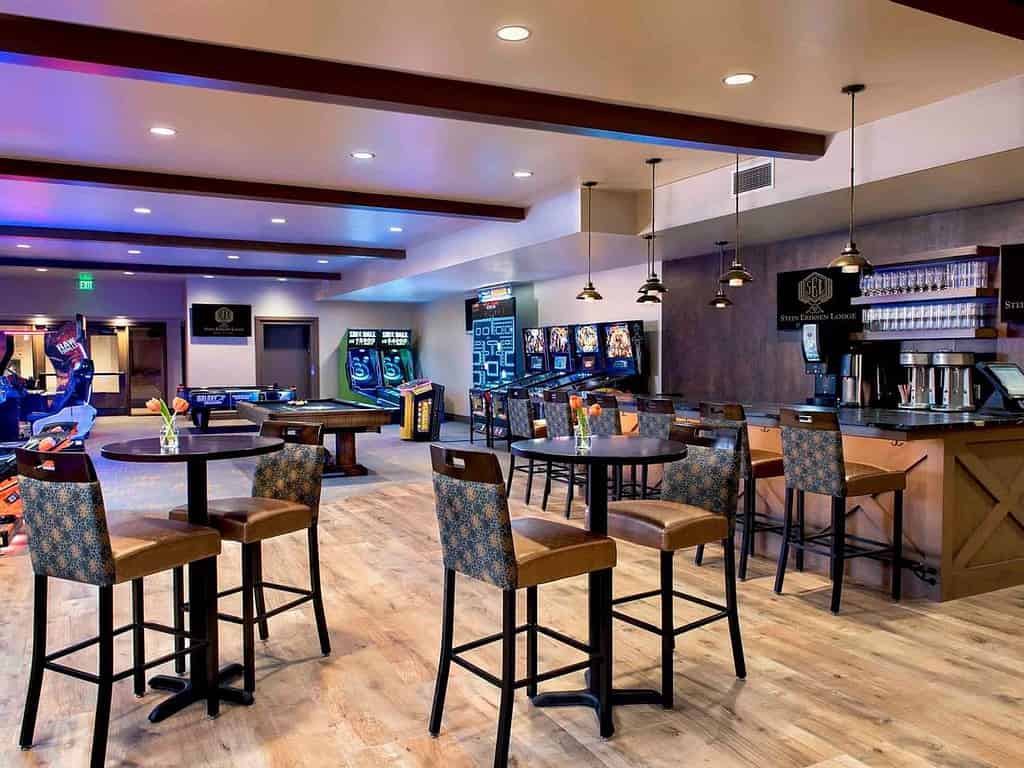 When asked about their experience working with Betson, Stein Eriksen Lodge expressed appreciation for the compelling amenity Steve and his team provided. The complimentary game room has proven to be a valuable addition, captivating guests and adding an extra layer of enjoyment to their stay.
Stein Eriksen Lodge has set itself apart from the competition and created a unique selling point by offering a free-play arcade game room. This amenity has undoubtedly contributed to increased hotel growth, attracting new guests and providing existing ones with an unforgettable experience. The Champions Club showcases the lodge's commitment to delivering exceptional service and going above and beyond to exceed customer expectations.
In conclusion, incorporating a free-play arcade game room as an amenity can be a game-changer for businesses in various industries. Whether you're a hotel, resort, apartment complex, or entertainment venue, providing guests complimentary access to exciting arcade games can help differentiate your establishment, increase customer satisfaction, and boost your business. Follow in the footsteps of Stein Eriksen Lodge and consider the power of gaming as a value-added amenity for your success.
Sign up for our newsletter to be the first to hear about new releases, product promotions, updates, and more.