Benefits of Installing a Photo Booth at Your Business
3 Minute Read
For years, a photo booth has been a fun entertainment option for teenagers and families. But with the transition to everyone having a mobile phone in their pocket, you might think a photo booth seems old-fashioned. With new technologies and easy connections to the internet, photo booths now offer great interactive possibilities to entertain guests and drive traffic.
With social media integrations, consumers can print and share photos directly from the booth to Facebook, Twitter, Instagram, and more in real-time. Additionally, there are units in various sizes, so finding the right fit for your business is easy. 
A photo booth is a great purchase decision for event planners, route operators, and location owners, from shopping malls to bars, restaurants, and amusement parks. Our friends at Apple Industries have provided a list of the top benefits of installing a photo booth at your business.
Increase Revenue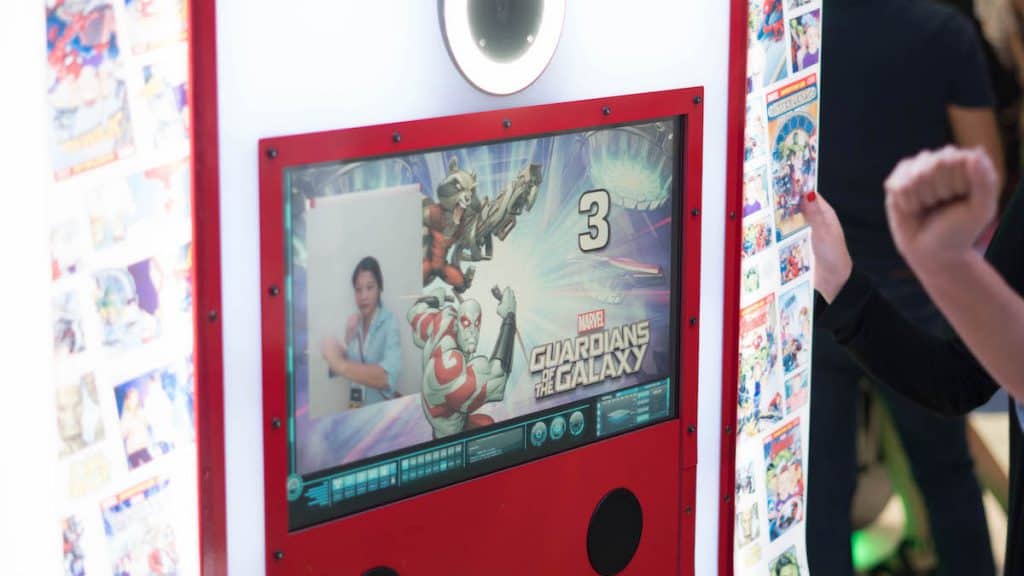 Create a new revenue stream for your business/location
Increase profit (quick return on investment)
Drive traffic to your location or specific area within your location.
Increase visits from repeat customers
Offer a fun experience to your customers and increase loyalty
Extra entertainment options increase dwell time and, consequently, sales
New opportunities for birthday party rentals
Upsell from the booth (use 4th frame as coupons)
Create a selfie wall to encourage customers to use the photo booth and be part of the "wall of fame."
Use Your Booth for Promotion
Use your photo booth experience to promote your location/business or brand via social media.
Try using the Photo Strip 4th frame* as a coupon to promote your products or offer discounts/special offers.
Photo booths can be a great marketing tool to promote your services/products or raise awareness of your brand via external decals/screens / 4th frame/ watermarks on large prints.
An excellent way to launch a new product is by wrapping a booth with the product branding/logo.
Create an attraction, a fun focal point at a corporate or private event / or drive foot traffic to your booth in a trade show.
A fun activity for guests/employees to bond together and post pictures on social media
Capture Email With Your Photo Booth
Increase your database by capturing email addresses from the photo booth
Email offers to your database
Build a community and loyalty by keeping in touch with your customers
Entertain Customers
Why would your customers use a photo booth?
Capturing a moment with a loved one or friends (Birthday, Valentine's Day, time with a friend)
To have fun during a party: a great way to take group pictures
Corporate events
Print a fun photo montage with your photo next to licensed characters, celebrities
For nostalgia: Generations of consumers who grew up using the old-style photo booths
To print and share better selfies: photo booths have better lighting and a better camera
Share your great photo with friends and family on social media
Some of the photo booth options to think about include:
Photo Studio Deluxe
The Photo Studio Deluxe is one of the market's most interactive photo booth attractions. Its monumental size and vibrant light show composed of over 5,000 LED lights will undoubtedly be an eye-catching attraction for any location.
Marvel Adventure Lab
Become part of a Marvel adventure! Choose from a wide range of covers and stories under Marvel product licensing. The stories and covers update automatically and have an authentic comic print finish.
Photo Studio Prism
The Photo Studio Prism is a compact and smaller version of the Photo Studio Deluxe that fits within more locations. Customers can enjoy 20 interactive videos and post them within fun scenes or "BeScene."
Sign up for our newsletter to be the first to hear about new releases, product promotions, updates, and more!
*The 4th frame is the last photo frame on a photo strip. Three photos are allocated to the end user, and the 4th space is for logo/branding/coupons, etc.