Betson Enterprises to Showcase Slate of New Games at Amusement Expo 2019
Betson Enterprises will once again return to Las Vegas at the Amusement Expo in a 60×20 booth, showcasing a new slate of games from 2018 as well as the premiere of NERF ARCADE. The line-up features Halo: Fireteam Raven 2-Player, slither.io Arcade, and Super Bikes 3, as well as the hits that continue to earn – Teenage Mutant Ninja Turtles, Injustice Arcade, The Walking Dead Arcade, Cruis'n Blast, and Big Buck HD Wild.
NERF ARCADE is a high-energy, fast-paced game that is exciting for kids of all ages and family-friendly. Players grab hold of two oversized NERF Blasters and shoot as many targets as possible to win tickets or reach a high score. With 4 exciting levels and skill-based play, it's no surprise that income reports have been consistently at the top of every test location.
NERF ARCADE features a giant 65" commercial-grade LCD for stunning visuals, two high-reliability and versatile patented Blaster guns, seats, and a massive 500W sound system. LED lighting effects and a vibrant cabinet artwork complete the design. The new game is expected to ship by June of 2019.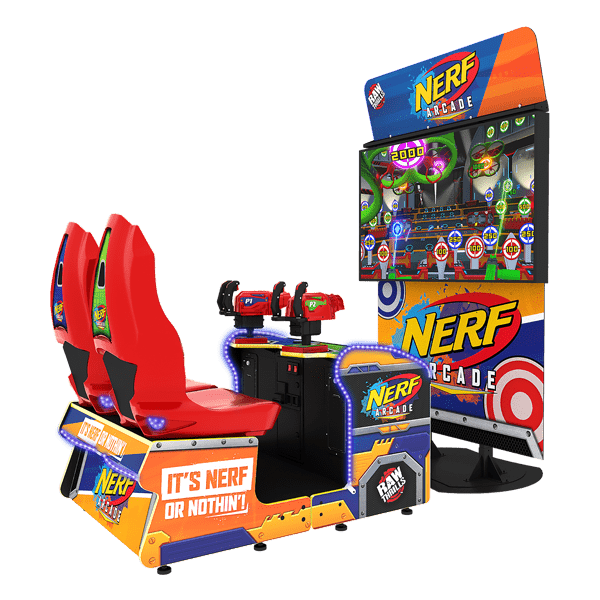 "Amusement Expo is always a positive experience for Betson," said Bob Boals, Executive Vice President, Betson Enterprises. "Each year, we get to showcase a new winner from Raw Thrills and this year is no exception. We can't wait for our current and potential customers to see NERF ARCADE in action."
The Betson sales team will be on-hand in booth #323, ready to answer questions while encouraging game play. Betson's financial services team will also be present to discuss the latest finance specials and any leasing or financing questions that may arise. Request a meeting with Betson sales during the show.
The Amusement Expo will take place on March 27th & 28th at the Las Vegas Convention Center in North Hall 1. For more information about the Amusement Expo, or how to register, click here.