How to Choose the Right Jukebox for Bars and Restaurants
5 Minute Read
The jukebox has become an icon of fun and simpler times. Having one in a bar or restaurant can bring back warm memories among friends and strangers.
Since its inception in the late 1800s to early 1900s, this sound machine has come a long way and has been a staple of diners, pubs, bars, and restaurants. Since music sets a good mood, makes the food taste better, and makes people drink more, having a jukebox is crucial to the growth of your business.
However, to get the best from this iconic sound machine, you should know how to select the right one for your restaurant or bar. Here are a few tips to help you pick a suitable machine for your bar or restaurant.
Why You Should Have a Jukebox
If you want to own one of these devices, it would be best to identify your goals. For example, jukeboxes serve several purposes in a bar or restaurant.
Therefore, understanding your motivation or customers' needs will help you make the best choice.
Some of the reasons why you may want to get the machine are:
Substitute for a DJ or Band
This is one of the main reasons why this sound machine was invented. Having an in-house DJ or live band to entertain guests can be quite costly. Many operators take advantage of turning the jukebox on free play mode for dedicated nights/hours so their venues' patrons can play music for free – they do this instead of a DJ as it's a low monthly fee.
You should ensure good music selection and sound system to use the machine as a substitute.
Some guests only walk through your doors, hoping to get a turn on the jukebox. Depending on your location, style, or type of establishment, the expectation of your target customers will also influence the kind of machine to get.
You can also make money from the machine and give your guests what they want. Remember, the right jukebox can be a good source of extra income for your business, and the wrong one can only take up space in your establishment.
Increase Customer Engagement
The music you play in your bar or restaurant can liven up the mood of your customers and get them dancing as they play their favorite music.
If you aim to give your customers the freedom to choose the music they want and have fun, you should get a machine with a vast selection of music from different genres. Operators also can limit the selection of music if they want to keep a certain "vibe" at their location.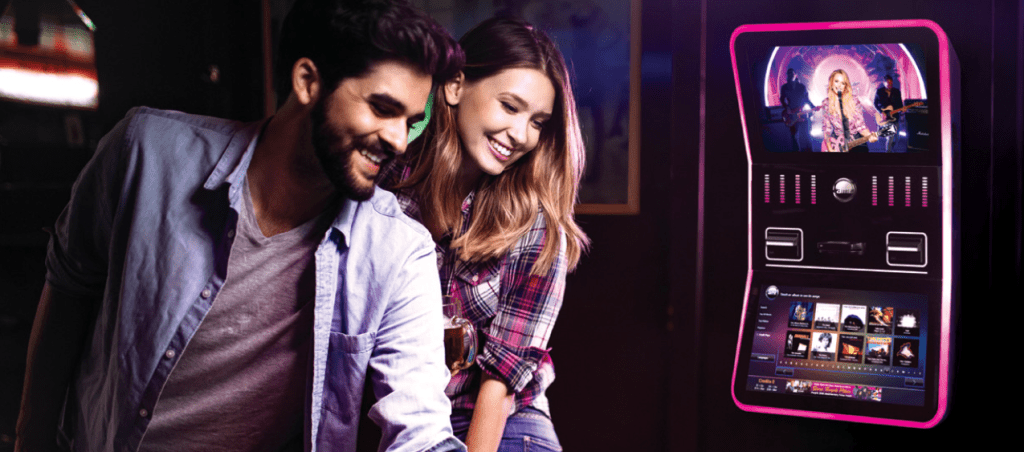 Types of Jukeboxes
Now that you know why you need these music machines, the next step is understanding the suitable machine to buy. Jukeboxes have evolved with the music industry and can fit any establishment. Today, these machines can be operated using credit cards, dollars, and even your phone. When looking for a jukebox, you should consider the type of music it will play, your budget, and how much control you will have over it.
There are several types of jukeboxes that you can choose from. They include:
Vintage Jukeboxes
As the name suggests, these are some of the old-model machines. They are also known as record player juke. Watching the records as they play on these machines can be fun.
They are an ideal choice for a retro-themed bar or restaurant. The vintage machines will give you control over the music you play and a feeling of nostalgia.
However, if the machine breaks down, you may not be able to find a replacement part. These machines also need frequent maintenance and have decreased audio quality and limited music selection. Also, buying them outright can be expensive.
Modern Jukeboxes
These are an upgrade to the vintage model. They use CDs and very limited MP3s and tend to be less expensive than vintage jukeboxes. They have a more comprehensive selection of music; if you own it outright, you will get to keep the profits.
On the downside, since they are from the 90s, they might not be too cool for a modern bar or restaurant. They also have a limited selection of music and are costly to maintain.
Digital Jukeboxes
You can have these latest systems and offer millions of songs and styles. A company like AMI provides millions of songs, customizable catalogs of full albums, and 27,000+ music videos with a slate of great-looking jukeboxes. They come in a flashy design and can be controlled via a smartphone app. With the current state of regulations, contactless control is essential for customers.
One of the benefits of digital jukeboxes is updates are pushed directly from companies to the units. For instance, AMI jukeboxes can video playback for AMI's complete library of music video titles. As a result, music video jukeboxes earn 40% more than jukeboxes with audio playback only.
Innovations like the AMI Ad Manager give you the power to reach more customers with custom ads. This easy-to-use digital signage tool lets you create, edit, schedule, and run promotions on your AMI products and connected TVs. For example, promote daily specials or limited-time offers and boost revenue.
Use These Tips to Find the Right Jukebox for Your Establishment
If you don't have a DJ or band and don't want to hook up your phone to a jack and play music through it, you can consider having a jukebox.
Remember, since the machine you choose will say something about your business and brand, you should consider all options and make the right choice for your business.
Are you looking for the right jukebox? Then, Betson has what you need for your establishment.
Sign up for our newsletter to be the first to hear about new releases, product promotions, updates, and more!