Betson Wraps Up a Successful International Bowl Expo 2018
Betson Enterprises recently exhibited at the International Bowl Expo in Las Vegas, NV, from June 17-21st, 2018. Bowling center owners and operators from all over attended to check out the latest and greatest product Betson had on display.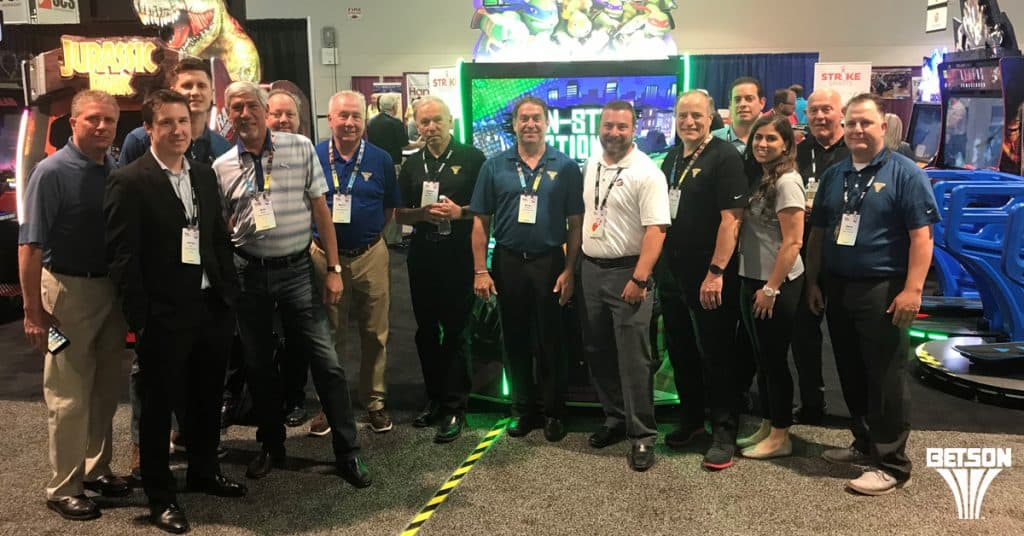 The show was held at the Paris Hotel and Las Vegas Convention Center. Guests enjoyed speaking with the Betson Sales team about the exciting and wide array of games featured, including new Raw Thrills releases–Injustice, Snow Boarder, and Teenage Mutant Ninja Turtles. Visitors to the booth got to take the games for a spin, so there was non-stop action and activity, whether they were getting air on their snowboards or beating up bad guys.
Betson's Finance team was also on hand to discuss exclusive Bowl Expo show-only specials, among other finance and leasing deals on games on and off the show floor.
"We had another tremendous show this year at Bowl Expo," said Bob Dipipi, Director of Sales at Betson Enterprises. "Our product lineup was the best in years, and the booth was busy from open to close with new and potential customers."
The Betson consulting team was on-site to offer tailored financial, design, and product-related solutions specific to our customer's varied needs. The Betson team is available for consultation at any Betson trade show, online, over the phone, or on-site. Please visit our website or call Betson (800) 524-2343 for an introduction to our team and services.
What Is International Bowl Expo?

International Bowl Expo (IBE) is the bowling industry's premier annual convention and trade show featuring various products and services exhibits. IBE also presents dozens of interactive seminars and "how-to" workshops that aim to assist proprietors in leveraging the latest tools and technology to improve and strengthen their businesses. The sessions educate and expose proprietors to the latest trends, marketing ideas, profit center opportunities, and new information about the industry to help build their businesses and spread the excitement of bowling throughout their communities. Attendance at International Bowl Expo is open to any owner/operator (or their employees) of a bowling center, billiard center, pro shop, or industry partner. Domestic companies, manufacturers, suppliers, or distributors that do not own/operate (or are the designated representative of) a bowling center, billiard center, or pro shop must purchase an exhibit booth to participate in International Bowl Expo.
For more information, please visit www.bpaa.com/bowlexpo.