Bay Tek Launches Piano Keys
Bay Tek has announced the release of their new arcade game, Piano Keys.
"Beautifully in tune, Piano Keys has even more songs in its repertoire! Its sharply lit, stand-out-in-the-crowd cabinet and marquee are sure to entertain the entire audience! Hit as many over-sized piano keys that match the colored square on the monitor as you can in the allotted time to accumulate tickets. A wrong note will delay the game, but you can pick up right where you left off. The faster and more accurate you are, the more tickets you win!"
Contact your Betson sales rep today to learn more. Additional info including a sell sheet and video are available.
Watch the video.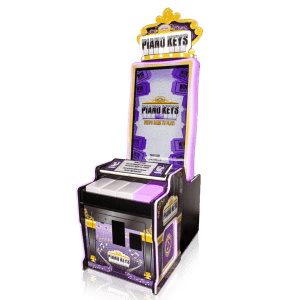 Bay Tek Games was founded in 1977 and is a family owned and operated business that is driven to provide fun and profit through innovative ticket redemption games. Headquartered in the heart of the Midwest, Pulaski, Wisconsin is home to Bay Tek Games. The rural community in Northeast Wisconsin populates over 3,500 citizens where hard work, fun, and simplicity meet. The employees share one vision of becoming the best in the world at developing and manufacturing ticket redemption games.