Andamiro Introduces Basketball Pro
Andamiro introduces Basketball Pro — the year's most anticipated arcade attraction for game rooms, sports bars and street locations

Andamiro USA Corp. today announced that Basketball Pro, a fast-action sports game in an upright arcade package, began shipping this week. Basketball Pro raises the bar on how a well-designed game can serve two divergent location types. The games compact footprint is a perfect fit for bars and other street locations, and it will stand out on the gameroom floors in the largest of family entertainment centers. Basketball Pro ships as a ticket redemption game, but for street locations it can be modified for non-ticket play.

The distinguishing feature of Andamiro's new sports piece is the player interface that consists of two controllers which are the size and shape of real basketballs. Players pound the big external balls to shoot the little balls inside the play zones. The air-powered interface allows players to control all their shots. The game's two player stations offer single play or side-by-side competitive play. Its two backboards, equipped with hoops and game clocks, move up and down as players propel the mini balls at them with each pound.

Gameplay is simple and engaging. Players select "single mode" or "versus mode," and the game starts when the music begins. Players quickly learn to adjust their hitting power applied to the external ball by following the moving basket. Players score three points every time they make a basket and six points during the final 10 seconds of the game called "double time." The game ends with the sound of a whistle (40 seconds is the default play time).

Whether a player is "pounding" alone or competing against a friend, gameplay is fast, fun and spirited. In arcades, players win tickets based on points. In bars and street venues, players with the highest scores earn bragging rights — try to beat that! Most operators will agree that games offering competitive play are more exciting and typically generate greater earnings. When Basketball Pro's versus mode is enabled, backboard movement is synchronized.

"Basketball Pro is both a great family game for arcades and two-player competitive piece for the bar and street market," said Andamiro USA President Drew Maniscalco. "It has loads of entertainment value."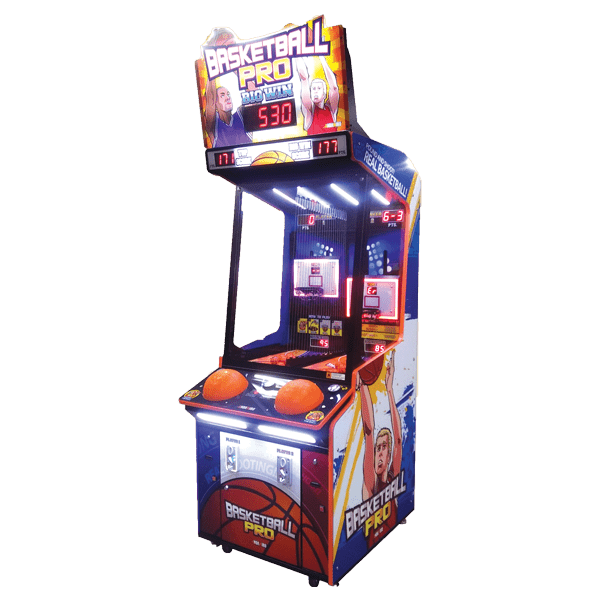 Basketball Pro measures 32" W. x 38" D. x 98" H. (79″ H. without the marquee). The game's player zones, separated with fine stainless-steel wire ropes, have plenty of room for some great shooting. The concave court surface directs the balls into the shooting mechanism. Each court measures 14″ W. x 20″ D. and has a vertical drop of three feet. During gameplay, the moving backboards climb and descend over much of that vertical.

Andamiro's designers created colorful basketball-themed graphics to wrap around the game's classic coin-op cabinet. A lively soundtrack, background cheers and an announcer calling the shots enhance the Basketball Pro experience: "Hey, let's play some hoops!"; "Great shot!"; "Three-pointers!"; "Six-point play!"; "What a shot!; Basket!"; and on, and more.

Basketball Pro is marketed by Andamiro USA Corp. of Gardena, CA, and its authorized distributors. Andamiro USA is a unit of South Korea's Andamiro Co. Ltd., a leading manufacturer of commercial amusement devices.

Andamiro is including at no charge a replacement set of basketball controllers with each Basketball Pro purchase. The ball material is made of PVC and elastomer, a synthetic compound known for its flexibility and durability.